100 Nitrile Abena Antimicrobial Gloves - Blue
Weight:

456.00 Grams

Maximum Purchase:

2 units

Shipping:

$7.00 (Fixed Shipping Cost)
100 Blue Nitrile Abena Antimicrobial Gloves.
Effective against a wide range of microbes
Photodynamic Quick Kill
Non-leach Technology
All-round glove applications
No impact on bacterial resistance
Proven skin-safe
Groundbreaking Non-leach Technology
Abena Antimicrobial Gloves are the world's first non-leaching antimicrobial gloves. The active has been tested for non-migration with:
Water
Hot water (45 degrees Celsius)
Sweat
Saliva
Ethanol
All-round Glove Applications
Medical: Tested for impermeability and glove strength, effective in preventing contamination between patient and healthcare practitioner, as well as handling various chemotherapy drugs.
PPE (Personal Protective Equipment): Tested to protect users from substances and mixtures that are hazardous to health, and harmful biological agents that may cause very serious consequences or damage to health
Proven Skin-safe
Abena Antimicrobial Gloves have been tested safe for use against various contacts. Some of these tests confirm that the AMG glove is:
Non-irritating
Non-sensitizing
Non-toxic
Non-cytotoxic
Non-sensitizer and low dermatitis potential
Photodynamic Quick Kill
The active ingredient on the glove is a photosensitizer which generates singlet oxygen when exposed to light. This singlet oxygen oxidizes the bacteria's protein and lipid, thus leading to the death of microbes.
Kills microrganisms quickly upon contact
Independent testing has shown that most bacteria coming into contact will be exposed to the antimicrobial activity and will be killed within just five minutes of contact. This technological breakthrough is based on many years of thorough and groundbreaking antimicrobial research.
Ultimately, Abena's antimicrobial gloves help reduce the risk of transmission from an infection source to a susceptible patient. This technology, built into gloves, which are already standard practice in many medical and healthcare settings, removes the need for additional solutions and chemicals.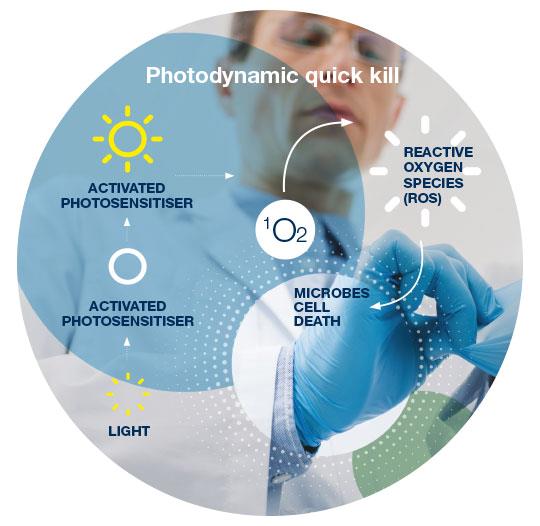 An Active Approach in preventing HAIs
Every year, healthcare associated infections cause unnecessary suffering and increasing medical costs for millions of patients and their families around the world. These prolong hospital stays, increase the risk of post-operative complications and disabilities, increase resistance to antibiotics, and even result in unnecessary deaths and massive financial losses to the healthcare system.
Abena Antimicrobial Gloves play an active role in reducing the spread of infections
While conventional medical gloves serve only as a passive barrier between microbes and your hands, Abena Antimicrobial Gloves actively reduce the risk of infection transmission from an infection source to a susceptible patient.
Clinical studies show that medical gloves pay a key roles in preventing contamination, dissemination and transmission of pathogens in healthcare settings.