Posted by Israeli First Aid Team on 22nd May 2019
Background:
Stop the Bleed is a national awareness campaign and call-to-action. Stop the Bleed is intended to cultivate grassroots efforts that encourage bystanders to become trained, equipped, and empowered to help in a bleeding emergency before professional help arrives.
QA page:
What is Stop the Bleed campaign?
Stop the bleed is a national awareness campaign that intends to encourage bystanders in the scene of bleeding emergencies to helping stop bleeding in wounded people before professional help arrives.
Who started the campaign?
The campaign was launched in October of 2015 by the White House.
Why was the campaign started?
No matter how rapid the arrival of professional emergency responders, bystanders will always be first on the scene. A person who is bleeding can die from blood loss within five minutes, so quickly stopping the bleeding is critical. Those nearest to someone with life-threatening injuries are best positioned to provide immediate care if they are equipped with the appropriate training and resources.
Who's involved in the campaign?
The Stop the Bleed initiative began as a collaborative effort headed up by the White House that included a number of Federal agencies, including the NHTSA Office of EMS, as well as national organizations and corporations.
When to use the stop bleeding kit?
During a bleeding emergency, it is highly important to stop the bleeding of a wounded person as soon as possible, especially during heavy blood loss.
The bleeding control kit is mobile and easy to carry and can save lives!
What's in the bleeding control kit?
C-A-T Combat Application Tourniquet Tactical Black Gen 7
WoundClot Trauma Gauze - Advanced Bleeding Control - 3"X8"
T3 Israeli Bandage 4" - New Generation Israeli Bandage
Blue Sänger Alfatex Nitrile Powder Free Exam Gloves - Pack of 2 - LARGE
H&H Flat Compressed Gauze
Tactical Combat Casualty Care Card
Sharpie Permanent Marker, Fine Point, Black
Israeli First Aid Velcro Patch
Personal Medical Tactical Pouch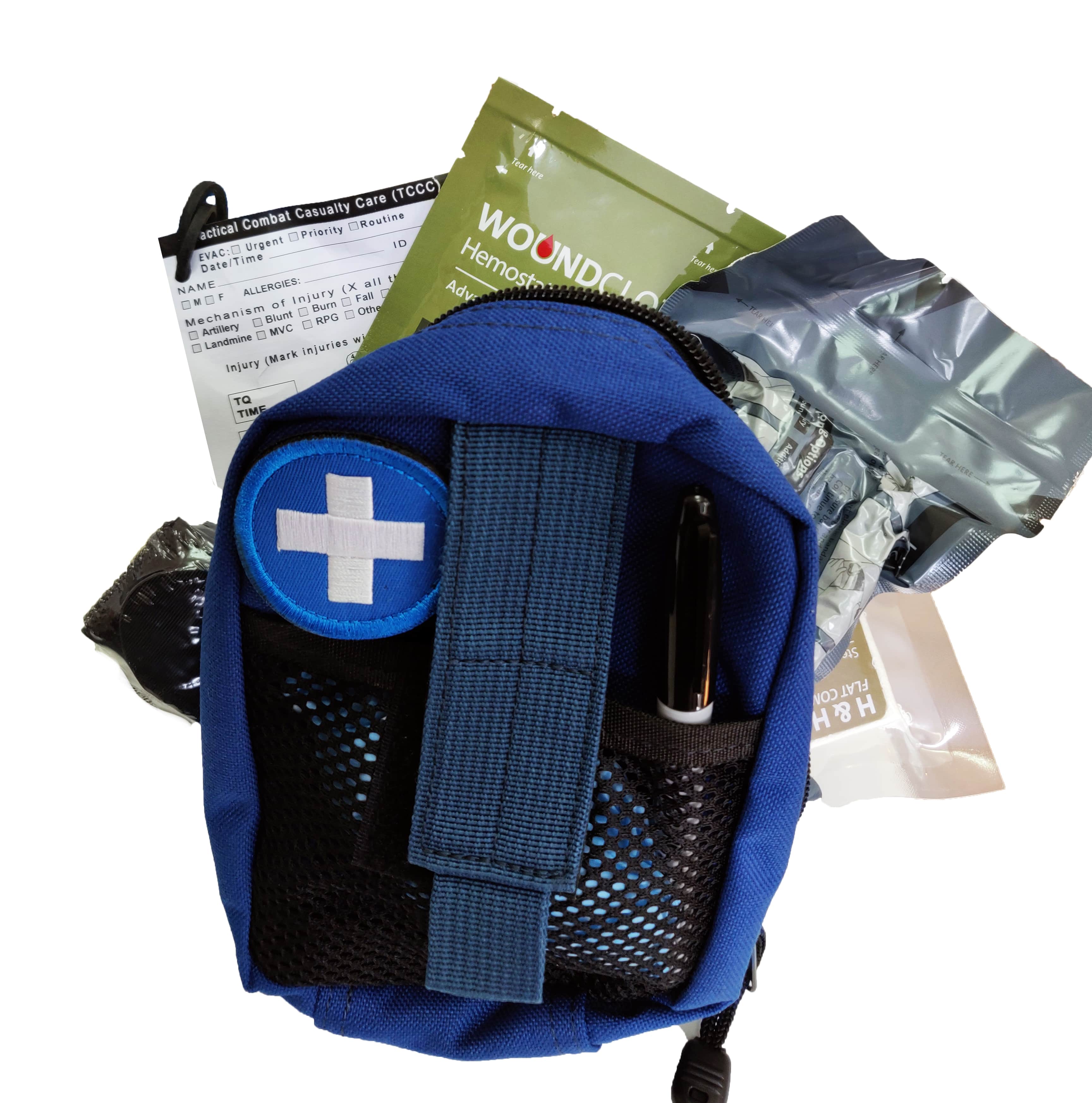 Why buy the bleeding control kit on Israeli First Aid?
Israeli First Aid offers high-quality products at a very competitive price.
We specialize and are very experienced in selling first aid products for years and the store reputation stands for its own.
We have thousands of satisfied customers worldwide and we provide reliable shipping and great customer service.
When buying from us you can be sure that you receive only the best products out there, which is highly important when we took about products that can make the difference between life and death.
Attached you can see the basic instructions manual to stop bleeding during an emergency: