Taharmayim — 50 Israeli Water Purification Tablets
UPC:

7290004954017

Weight:

16.00 Grams

Shipping:

Eligible for free shipping!

Bulk Pricing:

| | |
| --- | --- |
| Quantity | Unit Price |
| 20 - Above | $9.99 |
50 tablets per package.

Does not leave a bad taste to the purified water.

Kills bacteria, fungi and amoeba which can cause dangerous stomach upsets, diarrhea etc.

One tablet purifies a whole liter of dirty stream/river/lake/well/pond water in just 30 minutes.

May also be used to purify fruits and vegetables.

May also be used for emergency wound care (disinfection).

Based on Sodium Dichloroisocyanurate and suitable for people with iodine allergies.

Brand new, direct from the manufacturer.

Full English instructions and information (see below).

Made in Israel.
Taharmayim tablets are an economical and quick way of purifying tap water in places that do not have safe drinking water in the home.
A much cheaper alternative to buying bottled water, and no need to carry heavy bottles home from the shop.
When it comes to disasters, whether they are man made or natural are often not predictable. Being prepared to handle the situation can be the difference between life and death. A small packet of tablets in a cupboard or "bug out bag" can ensure clean and drinkable water for you and your family. Whether you choose to store water now that is treated with Taharmayim that is available during an emergency or treat water when needed, having a few boxes of Taharmayim can make a huge difference. Taharmayim water purification tablets are easier than using liquid bleach and do require you to store or transport something that might lead to spills or leaks. The Taharmayim water purification tablets are simply dropped into the water according to the instructions and 30 minutes later the water is drinkable (see detailed instructions that come inside each box.)
Whether you are a camper, hiker, prepper or off to visit a far off country, you need to buy a few boxes for your kit.
The tablets are sealed and divided in to 5 strips of 10 tablets per strip, each tablet is individually sealed.
Taharmayim is an effective water purification tablet that uses Sodium Dichloroisocyanurate to purify water.
50 tablets per package

Tested for effectiveness against Giardia, algae and viruses, E.coli, Pseudomonas aeruginosa, Staph.aureus, Enterococcus faecium and Mycobacterium smegmatis), fungi Candida albicans, Salmonella, enteric fever, septicaemia, gasto-enteritis and Entamoeba histolytica cysts

Handy for cleaning fruits and vegetables

Can be used for emergency wound washing

Based on Sodium Dichloroisocyanurate and suitable for people with iodine allergies

English instructions included

Used by armies and NGOs around the world for water purification

Long expiry date, often 3-4 years away

Made in a hi-tech lab facility (QMS ISO 13485:2003, 22716:2007 & 9001:2000 compliant for Medical Device production)
On the instructions card inside the box:
Reviews from ebay:
by tzion101
Sep 14, 2016
Water Purification Tablets A Must In Our New World
Livening in New Orleans, as well as surrounding areas, we are always plagued by chronic water issues as any Google search demonstrates. Thus drink the water at your own risk. The matter is now past solving due to the incompetent city and state officials thus requiring readily available purification tablets for waster if you want to stay well. Taharmayim's purification tablets are affordable, work extremely well and are delivered to your door. So if you live in Louisiana or Michigan or Zimbabwe, these are the tablets for you.
by oszelad-27
Jul 19, 2019
Useful.
Useful for mountain, forest and river. One first thing within a backpack for prevention, get water safe and counteract emergency real case, when it goes to hiking, practice bushcraft, stroll at mountain or explore a tough ground for security or first aid missions.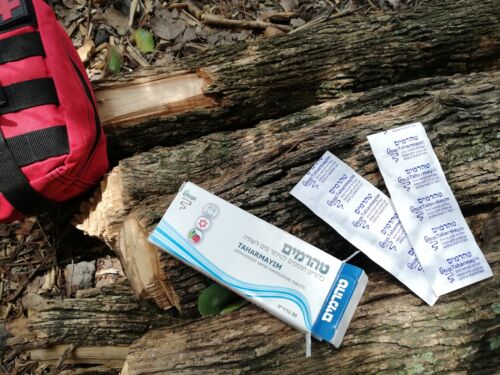 by c.reminc70
Sep 18, 2017
Nice Product for a Great Price!
This is an excellent deal for 50 water purification tablets. They come in 5 strips of 10 with a handy dosing card. A very important item to have In your first-aid pack! Would purchase again in a heartbeat!
by ann777.s-9
Jun 09, 2017
important to have
Not yet needed, but have in case of water distillation problems (don't do camping). Emergency reserve for me, but know Israeli products are avant garde and best quality.
by cammac-qnbwcfig
Jul 13, 2016
good and simple
quick delivery, good price, great quality, comes with english instructions for those unfamiliar with hebrew, showing dosage requirement etc.
Perfect price, perfect service and fast delivery

Great product! Way better than the water purification tablets used by the US Army.

Used to purify the water coming out of the sink on a vessel. Works well.

Last year I ordered 2 blood stopper bandages and 2 Black CAT tourniquets for personal 1st Aid Kits. Have not used either. They are back up to the ones in our kit already.

As a US Army Infantry soldier I figured out very quickly how important water purification is. The Taharmayim is much much better than the water purification tablets issued for Vietnam.

A must-have item for your go-gear, and to pack with you any time you go in the field.